Locker room gangbang
Lil Jersey Boi, Phenix, Jamaican Flava, Damari, Santana and Intrigue. We have got a new mixture of horny thugs for you to enjoy in this fresh gangbang thug orgy update. These muscled hunks love stripping in public so our orgy favorite guy, Intigue, joins his friends for a conga of cock sucking to begin this crazy black cock journey. See them shoving their cocks into each other craving mouth. Enjoy yourselves with one more superb scene and watch our hot studs as they engage in nice and hard style fucking just for your enjoyment today. Let's get their show on the road and see them in action as they take the time to penetrate one another's fine and tight asses as well.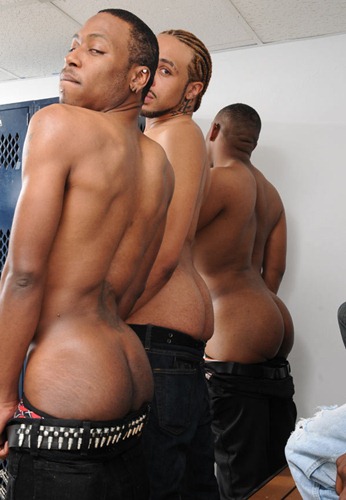 The cameras start to roll, and the first thing that you get to see, is these guys making their entrance wearing their thugorgy outfits, and they seem up to no good. Well by that we mean that we could tell they were super horny and ready to spring into action. Watch as they take the time to undress and put on a superb and sexy show for you guys undressing. Enjoy seeing them taking their clothes off and see them showing off their muscled bodies today. You get to enjoy seeing them in a nice and big gay fuck as well by the end of this scene, but rest assured that we will be back next week with some more nice and hot scenes for you to see as always! See another rough orgy scene, right here!